General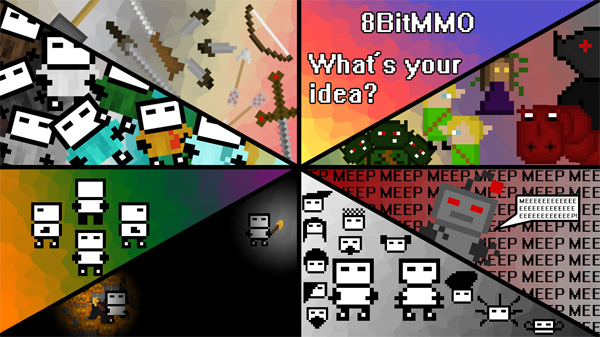 FanArt: ALinkToTheFuture
Welcome to the 8BitMMO Suggestion Box!
For best results, please keep it one idea per post :)
Do not try to manipulate the voting system by creating fake accounts — you will get banned.
Thanks for your ideas!
Yeah they appear to be floating almost 3 blocks high and then pop down to the ground when you get close enough to make them move.

Makes it hard to know where they actually are before it's to late and they get you.

I'm probably not calling the gravity function, will look into it

With And Inside Of Towns The Mayor Should Be Able To Start and End a Lawyer Cat Survival Event

Or maybe a random event

~Urban Terror

This could be an interesting activity for towns to do

Would have to be a expensive one use item.

Hmm, this could be used to grief… but I do know it's annoying to have immobile blocks in the way of your projects by players who are no longer active.

They Mayor Should Be Able To sell real estate in his town.
Land plots and such.
Also He should be able to make it so that certain people can only edit in certain areas of their town.

This could be pretty handy

Even if its just a checkbox that says "Only show current Z level" when placing blocks.
Right now if you have something high overhead (like Z=48) and you're on the ground, you can't see more than two levels above you. This gives rise to situations where you can't actually see the blocks you're placing.

Good point, this would be handy

Buy a spike attack with sword.

I need to decide if this is a bug, or a feature. Afterall, spikes can get annoying, so a way to get rid of them isn't necessarily all bad… ;)

What is the downside to being added to a town…?

(Ok, this will be the last time i mention it, to stop anoying you)

It's a good idea, less spam in the chat window is always a good thing

I'd like to see some, if not all of these changes. Some are more reasonable than others.

First, founders of capital cities are now Governors instead of Mayors. Or something to establish the distinction.

Capital cities (namely Origin, but others if more will be able to be built) still restrict block removal to the person who placed the block, and now require land to be parceled out in contiguous sections, probably determined by the governor, possibly with a price that can be set by the governor.

Player towns remain as they are (land, building, and resources are common), unless set…

I can see a parceling system / offering multiple permission systems as being pretty handy for mayors and citizens.

Unable to reproduce - can anyone provide additional details?

I think that it would be cool if for 10 plat you could have a username change or a nickname for chat.

add armor or a shield it would be nice to have those items

You would be able to Buy and Trade Plat. You Should Buy 1 plat With 5k....because Sim9 has to pay bills and its hard to get 5k "I learned from Experience". You should also only be able to buy 2 plat every day with gold *not real money, again as i said bills -_-*

...maybe it could show up under the quest window.

my idea is that you could have an independence day special lasting froms 4 th july to august or whatever independence day starts in ur country. you should add in the update blocks of country flags ect ect
add flags (customisability optional),guns,a radio that can call a war in your base random amounts of waves of hipsters with guns trying to destroy your base and so on with silly mobs with guns.and finnally add wings that cost 7 plat or more

like for example you have a mo baddies mod and someone else has a mo weapons mod,if you join his server you have the mods he has and if he joins your server he has your mods.