General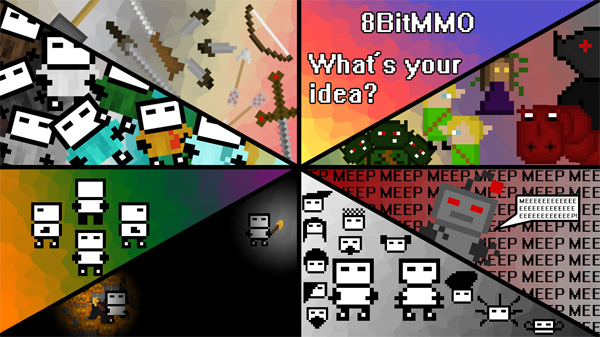 FanArt: ALinkToTheFuture
Welcome to the 8BitMMO Suggestion Box!
For best results, please keep it one idea per post :)
Do not try to manipulate the voting system by creating fake accounts — you will get banned.
Thanks for your ideas!
It won't be as hardcore as UO, but there will be a reward for doing PvP in future

And have them randomly say "I AM THE LAUW!"

A party system so if your hunting monsters with a friend you don't accidentally stab him to death.

Try enabling shadows in Options

Do you have any consistently repeatable steps to make this happen? Will make it easier to solve. Thanks

Given my terrible memory, I'm going to take this generally as 'more weapons' ;)

Building stuff is a lot more fun than stabbing cats and more quests would make it even more funnererererer.

Agree! I want to do more building quests in future

I would like that only the mayor can touch every bloc of the town and not every citizens players. ( citizens should only be able to touch there bloc that they putted!) :P

This could be a useful option

I'm thinking a mildly expensive block (~100) that players can place down in buildings they've created, secret rooms, etc.
When activated, it records that player as having visited it (possibly with a small one-time gp reward).

Then you try to find them all, and the game tells you how many you have left. ("You've found 57 out of 89 landmarks.")

I love this idea! Nice incentive for players to explore and visit interesting places

The shortcuts would allow changing the ZAxL without moving the mouse, which would allow easier placement of multiple adjacent floating blocks.

Good idea; Possibly bind to [ and ].

Such as darker shades of dirt and grass, Different coloured roofs and blocks. Darker shades of stone blocks. ect.

Yes, more blocks are needed

Sand, Snow, Obsidian etc

Water (Sinking effect + drowning after N sec)
Lava (Death on touch)

started

·

Admin

RobbyZ

(

Admin, 8BitMMO

)

responded

Also can you tweak shadows, they take ALOT of cpu time (75%) And i have a Core I5 so that's a performance issue

I need to fix this. More generally speaking, shadow performance is a harder issue to solve

So people can visibly see your the mayor or that another citizen is who is important like an officer or in my brothers case Harbinger of death and be distinguished from the rest.

That could be neat, town roles could make for some fun RP

Slaying the cats gets a bit boring over time... Maybe add another way to get some gold! (user shops?)

For sure; I'm planning some PvP & Player Town Warfare rewards that should help with this. Also, more enemy types in future.

I have a teleporter to the middle of nowhere (-43, 55) for hunting LawyerCats. When the server reset and I teleported there, there were no enemies present. I had to walk there again to get the enemies to appear.

I think I know what this is, I will fix

Yeah they appear to be floating almost 3 blocks high and then pop down to the ground when you get close enough to make them move.

Makes it hard to know where they actually are before it's to late and they get you.

I'm probably not calling the gravity function, will look into it

With And Inside Of Towns The Mayor Should Be Able To Start and End a Lawyer Cat Survival Event

Or maybe a random event

~Urban Terror

This could be an interesting activity for towns to do

Would have to be a expensive one use item.

Hmm, this could be used to grief… but I do know it's annoying to have immobile blocks in the way of your projects by players who are no longer active.