General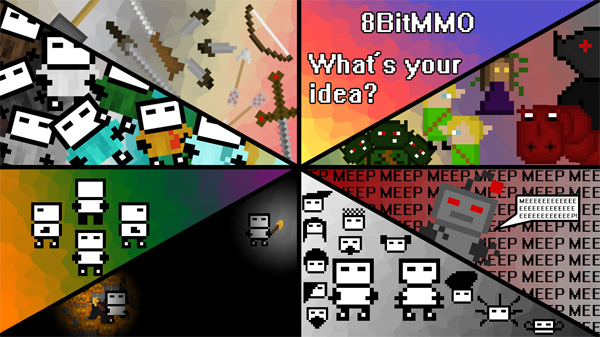 FanArt: ALinkToTheFuture
Welcome to the 8BitMMO Suggestion Box!
For best results, please keep it one idea per post :)
Do not try to manipulate the voting system by creating fake accounts — you will get banned.
Thanks for your ideas!
i get that you probably gave up onn this game, but, theres still a chance to bring it back, i was a player when this game was absoluely flooded, but now its just a crapshow.
you need to bring it back, your leving the game behind a paywall. you have already made profit from the amount of players who bought things. if you remove this, you can make people come again. pull a full unban, get everyone unbanned, and set up advertisements.

a command to list every town you are a citizen of, so you can revisit towns you have forgotten the name of

1. Add lamp and light 2. Add TNT. Thank You!

Get gold by building something out of a certain amount of blocks. It would make the game a LOT easier for the ambitious builders and it would make the game overall more fun!

I started olaying the game again after I stoped a while ago and I cant remember how t do anything

you could make your own monsters and fight in an area

You can do ''pick up everything'' in settings when in universe and then it will all go to your inventory

add more powerful weapons or damage buffs. and health buffs or armor

RobbyZ/Sim9 no longer updates the game, and doesn't even give a single damn about it anymore. Don't bother wasting your time with ideas, they will never get added.

Basically i would really like it if you could add the option in the options menu to switch between first person and the current one we have now.

Add A Chomebook Support

Ad A Controller Support

because i don't like the circle thing - it doesn't look like a hammer!

ex: box:1plat/ XXXgold

honestly i really just want telepads without having to go to some platshop

'cause making stairs is tedious

maybe it could be called a builder's guild or construction group. please make it

get 1 plat by 2000 gold or make the things in shop can be bought by plat and gold ex: lawyer cat spawner: 4 plat or 8000 gold

creative mode would be where you have unlimited blocks.

Due to the lack of updates, a good idea would be to add a Rebirth system.
In account creation check the box "Rebirthing Character". This will add a Rebirth button to your menu in-game, and will disable trading and safes (safes will have a "extra lock" that prevents other people from taking gold and putting it in), to avoid Cheat Rebirthing. To Rebirth, click the Rebirth button in your menu. A GUI will appear telling the requirements(listed below) and confirmation.
Rebirth Requirements
One Million Gold total on your account, in block value or not (If you donate, you don't need…

Well I just stumbled upon your game and I think it's really impressive! So ,long story short, - I can help you with textures for 9BitMMO. I saw the footage on its site and I think some textures might do well. Just give me a test and I promise not to disappoint you.