General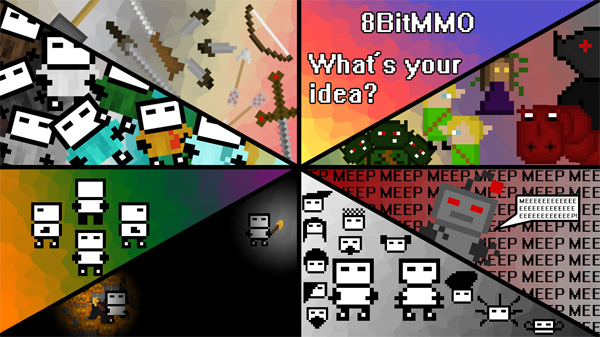 FanArt: ALinkToTheFuture
Welcome to the 8BitMMO Suggestion Box!
For best results, please keep it one idea per post :)
Do not try to manipulate the voting system by creating fake accounts — you will get banned.
Thanks for your ideas!
Here's the idea, there should be an in-game list that shows a leaderboard that shows the top players in several categories such as PVE kills, PVP kills, total amount of gold, total amount of items, total amount of placed blocks, total number of hours spent in-game. Things like that.

We can have a peanut PATAYYY peanut blocks XD and peanut things mostly peanuts tho im counting on the peanuts

I feel that having it set as ALL is a bit ridiculous considering this only becomes more difficult as time passes due to more rewardblocks being added, especially those that are impossible challenges (i.e. any with lots of lasers considering even at MAX level two hits kills you).

Adjusting this to be 100 or so or forcing all challenge blocks to be obtainable through use of checkpoints, which many don't use, would be a hell of a lot better. Currently I'm only missing 6, and have spent quite a few hours on each, they seemingly require either perfect timing or…

You should add these items
-Colored Glass
-Red
-Purple
-Black
-Yellow
-Orange
-etc
-Metal and Gemstone Blocks
-Gold
-Ruby
-Copper
-Obsidian
-Sapphire
-Pets
-Cats with multiple colors
-Bunnies
-Dogs
-Fairies
-Snakes
-Spiders
-Mobs
-LoanSharks
-SparrowCamel
-MagpieBaker
-Clothes
-Crown
-Witch Hat
-Shoes
-Others
-More Carpet Colors
-Different Colors of Wood
-Stone Variety
-Hair
-Weather
-Edible Cake
-Movable Vehicles
-Seeds

add peaceful opportunity to earn money and blocks,because if you don't like to slay1000000 enemies every day you'll run out of money soon, and you won't be able to get blocks in a SANDBOX game!!

es que quiten lo de la vista del techo que en algunas partes se mire y en otras no ya que cuando se hace eso se me bugea el juego y me dan bajones de fps si lo quitaran me ayudaria mucho gracias por ller

Ok, I know what you are thinking, "Twig, why are you posting this? So many other people have done this!". To that I say I know, I still had an Idea to go with this. Clans, the thing everyone wants, the "main" clans right now are RS, RIC, and CC. I myself, am in RS with the leader being SapphireCoyote, we can agree that a clan system can do wonders for the game to bring more people together, instead of making forums posts and a confusing system, this can be much, much easier. Something else to go along those clans…

So, the idea of this one, is a door that the owner can set to where certain people would be allowed in.

The owner would be allowed in by default, and, if you'd prefer, mods/admins will have a command that allows them to open Clearance Doors. The owner can also add people to the door with a command, i.e. /cdooradd (player name here)

The handle would be a dark gray color.

Now, you probably get this often, but in my opinion, I think having the ability to customize your character would be great! Just a thought.

More Music
-Adding some more chiptune won't hurt
Mini Games
-You'll get exp and gold from winning the mini games
-You can buy booster for the mini games
Weapons
-Mace,Bows,Armors,Guns (You'll get the idea)
Vehicle
-horses, cars, etc.
-you can rent cars or buy them
Craftable Items
-Craftable Hats, Shirts, Blocks, Weapons
Clans or Group
-Adds more quest
-The Leader make the clan by buying clan badge for gold (you make the choice)
-Clan Leveling system
-Leader can send party to quest that will earn Clan Level Exp
-The more level your clan get the more gold you get, and…

so you can, for example, create a own newspaper with funny stories, game updates, fight/Building Events.... but you can also write a letter to friend , send them invitations ...
(sorry for the bad english, im german)

it has laser gun and does 6 dmg

The player quest made by Setk (The place of just marble) where you destroy the crystal. There's only one key, and a password door. when I picked up the key, It said this: Key to the city of marble. and get this, it requires Key X to the city of marble! I think he mys-typed, but now I cant get any more quests from that zombie fellow! I guess i should stick to building.. ;.(

Being able to clear a pocket world (or even a whole town) would be a great modification, doing this, all the blocks will go in your inventory then the user could sell or rebuild with said blocks, also i was clearing my pocket dimension up and it was taking way to long, so if you could do this i would be very glad. :)

The machine gun turret would fire 3 consecutive bullets intead of a long laser blast that a laser turret would. The turret would cost 10p to balance the turret's power. It can fire up to 3 bursts of 3 bullets, or 9 bullets, before cooling down for 3 seconds. It is capable of firing in 2 directions at a time and has a slight delay between aiming. It can only fire in cardinal directions and each bullet would do 3hp of damage (up to 9hp of damage per burst) The unlock level would be 5 due to the power of…

i know i could just ask an admin to remove the ruins on a plot of land, but i mean come on there should be some way to loot them if the creator has been inactive for a few months. if its in a towns boarders i understand, no we cant loot that, but i mean in the wild. there could even be a crafting system or currency called scrap that can be used to craft/buy other blocks.

crosbow
bomb
lava bomb
mace
stafs
magic

The default drawing tool would be like a greyish color. And Users would be able to purchase more drawing colors in the Shop. They'd have options i.e. size of brush, change color (if bought any colors from shop)

I'm aware there are certain things you can disable and enable, I'm talking about shortening certain things, ex: The quest tab, I like it being up there but I don't want it to be so large, it covers nearly 1/8 of the screen it self. Thanks for reading this!