General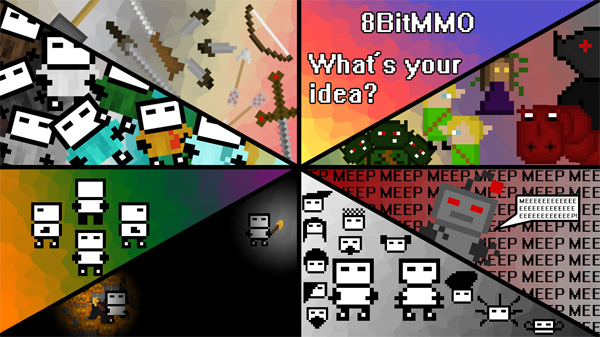 FanArt: ALinkToTheFuture
Welcome to the 8BitMMO Suggestion Box!
For best results, please keep it one idea per post :)
Do not try to manipulate the voting system by creating fake accounts — you will get banned.
Thanks for your ideas!
Attack 10 !

cost 2000 Gold in store !

color : Orange

Make In Game A JACKET !

Jacket Color Is Brown !!!!!!!!!!!!!!!!!!!!!!

The games shop can be opened anywhere with "H" but I think it would be nice to be able to place npcs that also do the same thing. Players wouldn't get any gold from any sales or anything but it would be nice for towns to have real looking shops that you don't have to worry about restocking.

more customize-able options, like skin color, hair, and more clothing/ facial options, because everyone seems to look similar, even with clothes.

Kinda like, have a character creator so you can make your character look more personalized

my boss ideas:

white dragon: 5 melee attack, 50 hp
blue dragon: 10 melee attack, 75 hp
magma slug: 15 melee attack, 50 hp
judge cat: (Miniboss) 15 melee attack, 55 hp
Red Dragon: 15 melee attack, 10 10 blocks range attack, 100 hp
Politician Cat: 25 melee attack, 100 hp
Dark RobbyZ: 30 melee attack, can also use hammer or laser, 500 hp

Add Crystal Block !

Cost 100 g In Store !

Color : Blue And White !

IT COST 3000 GOLD (LOOKS LIKE CHOCLITE EGG)
WHEN YOU CLICK (e) CLOSE TO IT YOU WILL GET ANY PAT ITEM
+ WHEN EASTER THAT EGG COSTS 500 G
PLEASE VOTES

Add more Monsters to kill, making the game more like a real MMO! I can do pixel art for them if you want.

Any update, but I guess even that is too much to ask for. Isn't it?

A like, kind of workshop that would cost lots of gold or even money to customize your player. Like, what if you want to be... dracula with horns, you could design it there.

make were you go to game menu and type in someones seriel number
people get seriel numbers every time they create an account

Make a friends llist and so you can friend people, and also you can invite people to your world, thx :3

Okay, this idea just randomly popped into my head, PVP "Zones" what these would do is allow the user to set boundaries for PVP. For example, Shadow Games! Hosts always have trouble with people spawn killing after the die, with this block, that all can stop! This can also help map makers with making PVP arenas, they can set one place to have PVP off, and another have it on. To set it up I would think you would have to put two of these blocks in the top left corner and the bottom right corner, then get a number…

--items--
Lift
Conveyor (For items)
Switches
Buttons
Lights
Tesla Coils
Piston
Alarm Clock

Maybe add buttons and switches that can carry a "signal" across a separate "carry block"