General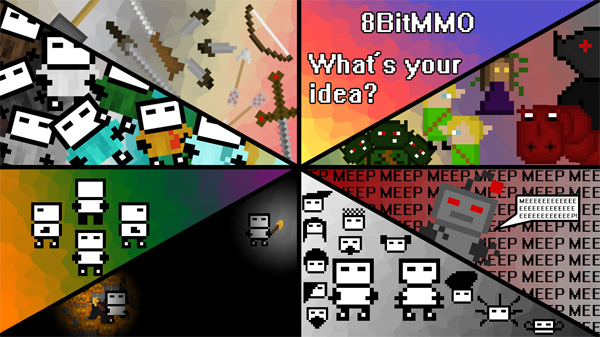 FanArt: ALinkToTheFuture
Welcome to the 8BitMMO Suggestion Box!
For best results, please keep it one idea per post :)
Do not try to manipulate the voting system by creating fake accounts — you will get banned.
Thanks for your ideas!
This would be like a block that could...

* Say things client-side to the user and/or Server-side (With spamming limitations of course)

* Do basic math and output that math (Such as randomization for quests, making players do math and junk, and compare logic for below)

* Maybe place certain blocks, remove certain blocks, and/or see what's in a certain place (Which could be used for more puzzle maps)

* Perhaps use a common-ish language such as Java, C++, or maybe AlexINF's PRG_L

* Allow you to actually paste code into it with a GUI or something :P

it sounds crazy but little npc's that would follow you around and help kill monsters if your friends arn't online at the time. you could by them for 200g at the shop. (will unlock at level 3) (have to be placed from inventory if wanted to use)
has/is
*your level sword
*fast
*10-15 hp

more things to unlock and a bigger lvl maximum.
including being easier to lvl up at first

NPCs you can buy at lv 5 one is basically a spruced up sign that costs 20G one is basically a shop and the last one is a safe, now for NPC customization , when you place the NPC a window pops up in game that asks you to chose 1 of 3 races dragon, zombie, or human after that for dragon you get to chose wing color scale color and eye color and that's it for zombie you get to chose from all of the clothing in the game and player you get to chose skin color and all…

leveling to level 5 takes way too fucking long ;-;

I think you should add 20 levels, and have the exp split into those. each one gains 3 HP and you need more diversity in swords, not just the RED, BLUE, WHITE, HAMMER. I feel there should be
*way more enemies than normal
*different swords, like a longsword with a small cooldown and reaches around the same of the hammer's length, but does less damage and the cooldown is 1/2 of the hammer
- a yellow sword for level 20 that does 20 - 25 damage
- a sword like…

its red block:
costs-100 g in shop
rare mod-10 p (only in rubby box)
mega rauer mod-100 p in shop

dragons
cat king
mega slug
and more

put our favorite musics in the game

Attack 10 !

cost 2000 Gold in store !

color : Orange

Make In Game A JACKET !

Jacket Color Is Brown !!!!!!!!!!!!!!!!!!!!!!

The games shop can be opened anywhere with "H" but I think it would be nice to be able to place npcs that also do the same thing. Players wouldn't get any gold from any sales or anything but it would be nice for towns to have real looking shops that you don't have to worry about restocking.

more customize-able options, like skin color, hair, and more clothing/ facial options, because everyone seems to look similar, even with clothes.

Kinda like, have a character creator so you can make your character look more personalized

my boss ideas:

white dragon: 5 melee attack, 50 hp
blue dragon: 10 melee attack, 75 hp
magma slug: 15 melee attack, 50 hp
judge cat: (Miniboss) 15 melee attack, 55 hp
Red Dragon: 15 melee attack, 10 10 blocks range attack, 100 hp
Politician Cat: 25 melee attack, 100 hp
Dark RobbyZ: 30 melee attack, can also use hammer or laser, 500 hp

Add Crystal Block !

Cost 100 g In Store !

Color : Blue And White !

IT COST 3000 GOLD (LOOKS LIKE CHOCLITE EGG)
WHEN YOU CLICK (e) CLOSE TO IT YOU WILL GET ANY PAT ITEM
+ WHEN EASTER THAT EGG COSTS 500 G
PLEASE VOTES

Add more Monsters to kill, making the game more like a real MMO! I can do pixel art for them if you want.

Any update, but I guess even that is too much to ask for. Isn't it?