General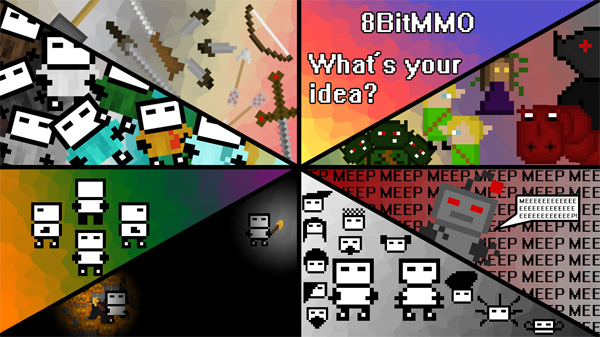 FanArt: ALinkToTheFuture
Welcome to the 8BitMMO Suggestion Box!
For best results, please keep it one idea per post :)
Do not try to manipulate the voting system by creating fake accounts — you will get banned.
Thanks for your ideas!
creative mode would be where you have unlimited blocks.

Due to the lack of updates, a good idea would be to add a Rebirth system.
In account creation check the box "Rebirthing Character". This will add a Rebirth button to your menu in-game, and will disable trading and safes (safes will have a "extra lock" that prevents other people from taking gold and putting it in), to avoid Cheat Rebirthing. To Rebirth, click the Rebirth button in your menu. A GUI will appear telling the requirements(listed below) and confirmation.
Rebirth Requirements
One Million Gold total on your account, in block value or not (If you donate, you don't need…

Well I just stumbled upon your game and I think it's really impressive! So ,long story short, - I can help you with textures for 9BitMMO. I saw the footage on its site and I think some textures might do well. Just give me a test and I promise not to disappoint you.

make strength ,speed and defense points every level up

an item creator and enchanter option with an unlimited cap but it costs gold to get more powerful effects, it also gives people more of an incentive to buy gold. also add mythic effects that you can add to weapons for platinum.

Once you all of Sir Zombie Brains'es quests, and play for 30 minutes after, Sir Zombie Brains runs from the bottom of the screen and says "*Player*! Something terrible has happened! Follow me!" and you will get the choice to follow Sir Zombie Brains. If you do, he takes you to a fake Root that is demolished and with NPCes sheltering. He says: "A nearby Dragon was disturbed by our adventurer Zone115. He flew to Root and destroyed it! We need you to venture into the mountains and slay the dragon. Here, you'll need this." You receive a Legendary Sword…

You Can Buy Weapon Effects Like Poison (Damage Over Time), Area Of Damage, More Damage, Etc. And Add Them To Your Weapons

potatos
carrots
trees
coffe
choclate
sugger cane
milk

dogs cats robots snakes lizards ect

A place where players could play chess and checkers against other players. 8bitMMO would keep moves legal and declare the winners.

It Could Be A New Gui For Seeing Which Towns You Are A Citizen Of Kinda Working Like /towns But Instead Showing Which Towns You Have Citizenship Or Higher In Since Most People Forget Fast I.E Me Kiolo I Would Love To See This Idea Underway XD

it would show where things are in quests

I think if you could us 2 buttons that rotate your view left and right could let you build in more detail because you can see only 1 view and walls and buildings block your view.

We could create our own world

Like 500 Gold Can Craft 2 Plat or 1

It was really annoying when I kept on doing my password right but it just said "Wrong account password.please try again."I WAS DOING EVERYTHING RIGHT!!!IT WAS SO ANNOYING!!!Then i gave up cuz it was just getting really annoying

I desperately want to use spells in this game and I won't settle for one wand that does one thing I want a spellbook bag that stores 6 spellbooks, and the ability to enchant items, this class can't weild weapons.

you can make your own server with normal mode except wild grass and wild coins or creative mode with infinite gold & plat and access to everything from a creative shop and you can chose if other player get to buy what from the shop. Each server will have a seed and you can invite players with that seed by putting it in a box in the server select. Please note that servers players make are not connected to primary servers in any way, and you can make other dimensions and design the tele pad to that dimension also I…

Imagine a wall. The player is on one side and an enemy is on the opposite side.The player can kill the enemy through a wall by a sword without going around the wall.