General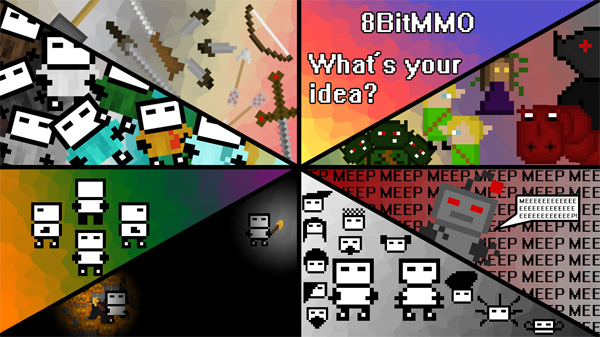 FanArt: ALinkToTheFuture
Welcome to the 8BitMMO Suggestion Box!
For best results, please keep it one idea per post :)
Do not try to manipulate the voting system by creating fake accounts — you will get banned.
Thanks for your ideas!
You Can Buy Weapon Effects Like Poison (Damage Over Time), Area Of Damage, More Damage, Etc. And Add Them To Your Weapons

potatos
carrots
trees
coffe
choclate
sugger cane
milk

dogs cats robots snakes lizards ect

A place where players could play chess and checkers against other players. 8bitMMO would keep moves legal and declare the winners.

it would show where things are in quests

I think if you could us 2 buttons that rotate your view left and right could let you build in more detail because you can see only 1 view and walls and buildings block your view.

It Could Be A New Gui For Seeing Which Towns You Are A Citizen Of Kinda Working Like /towns But Instead Showing Which Towns You Have Citizenship Or Higher In Since Most People Forget Fast I.E Me Kiolo I Would Love To See This Idea Underway XD

We could create our own world

Like 500 Gold Can Craft 2 Plat or 1

It was really annoying when I kept on doing my password right but it just said "Wrong account password.please try again."I WAS DOING EVERYTHING RIGHT!!!IT WAS SO ANNOYING!!!Then i gave up cuz it was just getting really annoying

I desperately want to use spells in this game and I won't settle for one wand that does one thing I want a spellbook bag that stores 6 spellbooks, and the ability to enchant items, this class can't weild weapons.

you can make your own server with normal mode except wild grass and wild coins or creative mode with infinite gold & plat and access to everything from a creative shop and you can chose if other player get to buy what from the shop. Each server will have a seed and you can invite players with that seed by putting it in a box in the server select. Please note that servers players make are not connected to primary servers in any way, and you can make other dimensions and design the tele pad to that dimension also I…

Imagine a wall. The player is on one side and an enemy is on the opposite side.The player can kill the enemy through a wall by a sword without going around the wall.

a vampire race please and make it so you can infect others also, attacking heals you, you run faster, you have less health, you can double jump and you take damage during the day also add in day/ night cycles

you'll have to beat the game and have 1 mli gold to reborn. to reborn you go to menu and press the reborn putton. once you reborn you'll get a powerful weapon,when you reborn everything is gone (the already reborn item wont be gone) and you have to start from the bottom and the max you can reborn the 100 when you reborn 100 times you unlock a new area. idk what the new area is gonna be

More quest for da moneyz ( and exp ). - More levels, areas, and shop items. - Cuz why not.

If like it causes 4000 gold but every time you hit it you gain a level.