General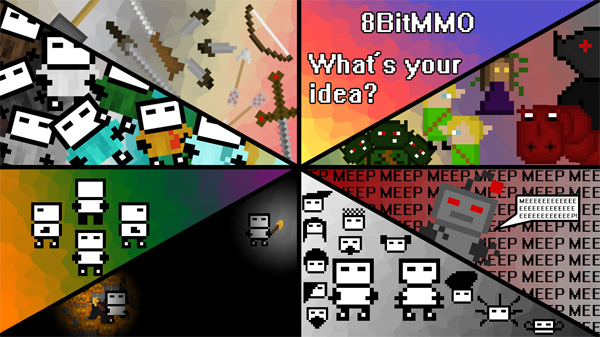 FanArt: ALinkToTheFuture
Welcome to the 8BitMMO Suggestion Box!
For best results, please keep it one idea per post :)
Do not try to manipulate the voting system by creating fake accounts — you will get banned.
Thanks for your ideas!
You would be able to Buy and Trade Plat. You Should Buy 1 plat With 5k....because Sim9 has to pay bills and its hard to get 5k "I learned from Experience". You should also only be able to buy 2 plat every day with gold *not real money, again as i said bills -_-*

...maybe it could show up under the quest window.

my idea is that you could have an independence day special lasting froms 4 th july to august or whatever independence day starts in ur country. you should add in the update blocks of country flags ect ect
add flags (customisability optional),guns,a radio that can call a war in your base random amounts of waves of hipsters with guns trying to destroy your base and so on with silly mobs with guns.and finnally add wings that cost 7 plat or more

like for example you have a mo baddies mod and someone else has a mo weapons mod,if you join his server you have the mods he has and if he joins your server he has your mods.

Blocks to celebrate events. We already have Easter Eggs and Pumpkins, but we need more...
Easter Egg Kit-1 block size. Costs 100 gold. Has a picture of an egg on it. Generally red.
Grave-Like Easter eggs, but available in stores. Costs 100 gold. Unreadable writing.
Christmas Tree-2 block size, but kinda like Easter Eggs. Costs 200 gold. Looks like a Christmas tree.

like 0.000000000000000000000000000000000001 drop from like dire game reveiwers

i have noitced that there is only 3 shirt types, limiting customizability, so i have made shirt textures and sent them to the owner of the game, now lets show the post support!

i think 8bitmmo should have an invisible wall block i thought..... just, here's the stats:
2000 gold or 1 platnum
would be able to make invisible and visible and you can walk through it like its a ghost block.
the command for making it visible and invisible would be:
/block (vis or invis) or: /b (v or i)
it was a good idea that i just made up.

make portals to other dimentions e.g. hell each portal is 1 platnim.

when you kill a boss lets say hydra you get like armor or swords and that kinda of stuff like platnum

It would be awesome to be able to use a fancy looking fence to either decorate certain locations or kepp people off of your property. Maybe add an electric fence for Pvp purposes.