General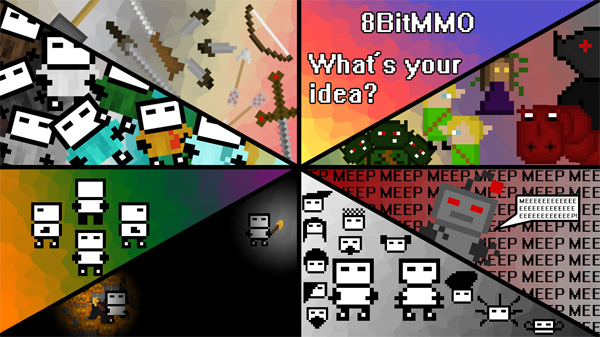 FanArt: ALinkToTheFuture
Welcome to the 8BitMMO Suggestion Box!
For best results, please keep it one idea per post :)
Do not try to manipulate the voting system by creating fake accounts — you will get banned.
Thanks for your ideas!
Blocks to celebrate events. We already have Easter Eggs and Pumpkins, but we need more...
Easter Egg Kit-1 block size. Costs 100 gold. Has a picture of an egg on it. Generally red.
Grave-Like Easter eggs, but available in stores. Costs 100 gold. Unreadable writing.
Christmas Tree-2 block size, but kinda like Easter Eggs. Costs 200 gold. Looks like a Christmas tree.

like 0.000000000000000000000000000000000001 drop from like dire game reveiwers

i have noitced that there is only 3 shirt types, limiting customizability, so i have made shirt textures and sent them to the owner of the game, now lets show the post support!

i think 8bitmmo should have an invisible wall block i thought..... just, here's the stats:
2000 gold or 1 platnum
would be able to make invisible and visible and you can walk through it like its a ghost block.
the command for making it visible and invisible would be:
/block (vis or invis) or: /b (v or i)
it was a good idea that i just made up.

make portals to other dimentions e.g. hell each portal is 1 platnim.

when you kill a boss lets say hydra you get like armor or swords and that kinda of stuff like platnum

It would be awesome to be able to use a fancy looking fence to either decorate certain locations or kepp people off of your property. Maybe add an electric fence for Pvp purposes.